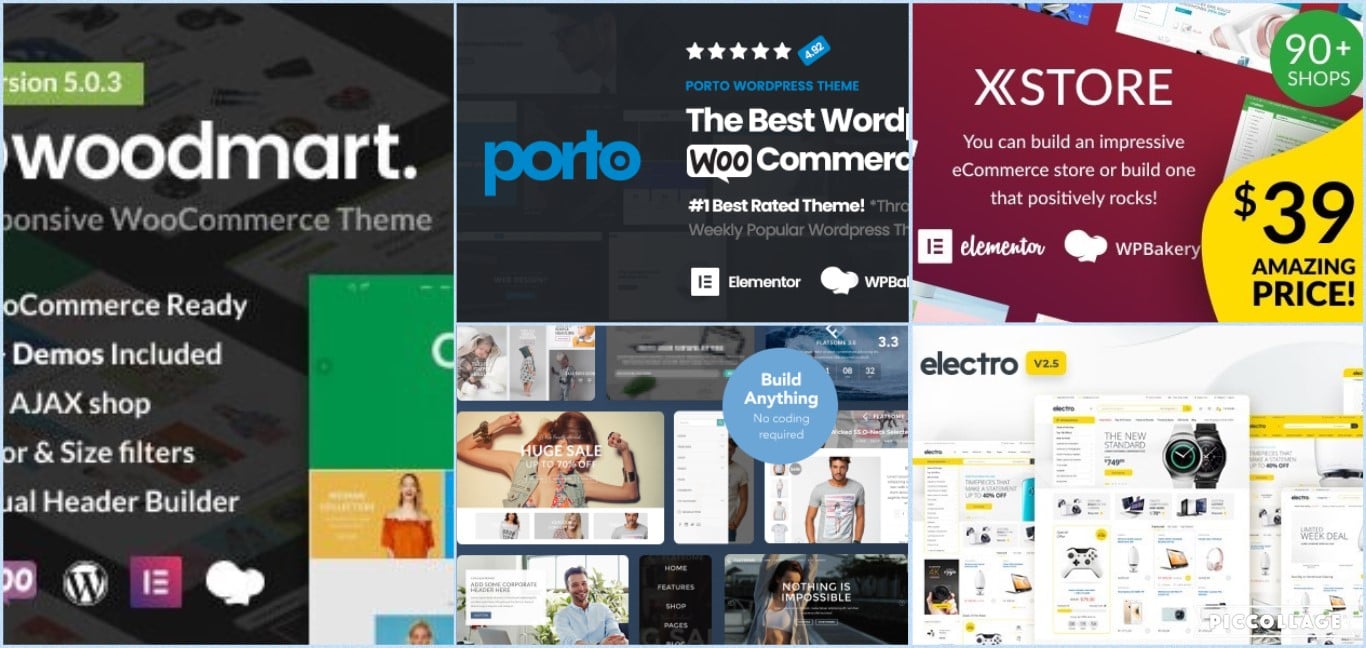 TOP 5 BEST WOOCOMMERCE WORDPRESS THEMES OF JULY 2020
WooCommerce is one of the major eCommerce technologies currently in use. It is rapidly strengthening the world's small and large eCommerce websites.
If you are thinking of launching a successful online store, you need a great theme that will give you optimal design and settings that will fit your goals and overall business vision. Here we will discuss some WooCommerce wordpress themes that will make you look professional and help you build a trusted online shop.
You can easily use this WooCommerce wordpress theme for electronics, fashion, furniture, niche shops, clothing, glasses, watches, sports, shoes, jewelry, cosmetics, marketplaces, medical, food, auto parts, organic, landing pages, music shops.
Nowadays online shopping has made life very easy and comfortable. Which is why we are quickly getting used to this subject. In that case WooCommerce wordpress theme is not comparable.
Amazing Theme with perfect User Experience
Flatsome is the perfect Woocommerce wordpress theme for your shop or company website, or for all your client websites if you are an agency or freelancer. It got all the tools needs to create super fast responsive websites with amazing user experience. It got unlimited options and a revolutionary responsive page builder, so you can create anything without coding.
The Perfect Theme for
Beginners or Professionals
Porto is simply a better choice for your new website or ecommerce store design. The theme is several years among the most popular in the world, being constantly improved and following the trends of design and best practices of code. Your search for the best solution is over, get your own copy and join tens of thousands of happy customers.
Powerful Theme Options + Intuitive Visual Editor
Porto has a huge variety of options and settings to manage your site, we organize all these options perfectly so you can quickly modify something and see it in all pages and posts. Be impressed by how easy is to use our intuitive visual content editor.
WoodMart' is a premium Woocommerce WordPress theme​ designed from the ground up for building supreme WooCommerce online stores​ of any kind. Focussed on user experience​ first WoodMart uses a powerful AJAX tech​ to give users a very fast and seamless online shopping interface​ without the need to constantly refresh pages.
Build any kind of online store ​you can imagine and start earning that passive revenue stream​ you have been thinking about with 'WoodMart' for WordPress​ and never look back.
Theme Settings Panel
With a powerful Theme Settings Panel ​that allows you to change a plethora of Theme Settings with a single click​, you don't need any coding experience​. Without the need for multiple plugins to power it WoodMart is smart, lean and fast,​ so you can get on with business. The Theme Settings panel gives you a graphical interface to make simple changes quickly and easily.
Fully Customizable
Everything has been tweaked and developed to respond to your customization requests​ with a minimum of fuss so what you are left with is a highly customizable website that can adapt to your change requests​ easily and quickly.
Change up your fonts, update your colour palette ​to you meet your brand guidelines​, update your swatches to show multiple product variations​ – it's all accessible from the familiarity of the intuitive WordPress dashboard​.
Responsive Design
Of course WoodMart features a completely responsive design​ that manipulates itself​ to best suit the device it is being viewed on. This means you can carry on with the best part like listing items for sale​, creating a killer shop​ and leaving the technical stuff up to the developers.
We guarantee that your website will display fluidly across every device​ type you can think of without any extra effort on your part – laptops, PCs, smartphones​ and tablets​ – have been carefully thought out and included in this smart website theme design​.
Retina Ready
We've also made sure that your new website​ will display with the highest possible pixel density​ as per users device. If that happens to be a retina ready device​ then that display will light up with colors that are simply out of this world.
Make the most of your photography with this retina ready theme for WordPress​, you won't regret it.
SEO Optimization
SEO is like the hottest buzzword​ of the decade but put simply it means that your website needs to be coded a certain way so that Search Engines like Google and Bing​ can find the right stuff it needs to, to rank your page correctly​.
This means clean code​, well designed, and support for almost all popular SEO plugins that give you more control over use of the right metadata​ in the right place, and being free of bloat​.
Powerful AJAX
AJAX​ or Asynchronous Javascript and XML​, is a group of techniques used in web development which allows a web page to communicate with a server without reloading the page. This is best witnessed when searching through products. You know you haven't got an AJAX powered site​ when every category change or product swatch update you make the whole page flickers and reloads.
Not with WoodMart. Using the best tech available we have gotten away from that problem with galleries of products of any kind with stacks of possible types and kinds that simply update as you select them. It provides your customers with the kind of experience you'd expect in a leading marketplace online today​. Live up to their expectations with WoodMart for WordPress​ – simple.
Over 35 Demo Layouts
A great website​ should have a nice supply of demo layouts to get you started and we recognized this from the outset and went out hard from the gate with over 35 stunning layouts for you to choose from. You can use our theme for any kind of store including furniture, fashion, clothing, electronics, watches, glasses, sport, shoes, jewellery, cosmetics and a lot of others. Our theme is also suitable for corporate and magazine websites and you can use it without WooCommerce.
Advanced Variable Products
Being able to apply multiple product variables and swatches to products​ in your store is a must. WoodMart is optimized by allowing you to have one listing but show many colours​ for instances, or a certain product that has multiple sizes, types, styles, purposes.
This gives your shop so much more depth​ with every product being able to have multiple attributes and variations​, and as soon as they are added to your Cart they appear, no page reloads, no refresh necessary. Once you've tried it there's no looking back.
Drag & Drop Header Builder!
A great user experience often starts with an awesome header design, and as silly as that may sound to some it is often overlooked. With the next iteration of WoodMart we release a powerful 'Drag & Drop' header builder that gives you complete control over designing your headers. Drag blocks into place, label them, update background images, colours, borders, padding you name it. All with a simple GUI that anyone can use to build something really unique.
XStore makes e-commerce easy.
This elegant and intuitive ecommerce theme is carefully developed and includes that set of pages, tools and settings that will help you create a professional looking and trustworthy online shop.
You can easily import via the most intuitive installer demo for electronics, fashion, furniture, niche store, clothing, glasses, watches, sport, shoes, jewelry, cosmetic, marketplace, medical, food, auto parts, organic, landing page, music shop and other.
Also, XStore comes with several widgets that will help you improve the user's perception of your shop.The Theme Options is user-friendly and requires no special knowledge, adding value to a beautifully responsive theme.
Join our 50,000+ happy customers and start experiencing e-commerce design as it should be. Simple.
Electro is a robust and flexible WordPress Electronics Store WooCommerce theme, built by the same team that developed MediaCenter – Electronics Store WooCommerce Theme to help you make the most out of using WooCommerce to power your online store. The design is well suited for Electronics Store, vendor based marketplaces, affiliate websites. It is built and comes bundled with most of the advanced features available in most popular eCommerce websites like amazon, flipkart, snapdeal, walmart, alibaba, aliexpress, etc. So if you are an amazon affiliate or want a multi-vendor marketplace for your niche market or a store owner, this theme is for you.
The theme is built on top of Underscores framework. The code is lean and extensible. This will allow developers to easily add functionality to your side via child theme and/or custom plugin(s).
It features deep integration with WooCommerce core plus several of the most popular extensions:
View more: